We Transform Empty Walls to Art
Vertical gardens with luxuriant plant life can now be installed in homes, apartments, offices and restaurants.
The cost of a greenwall is outweighed by the health benefits of greenery or exceptionally fresh food. The upright space-saving 'wall feature', vertical garden, or greenwall is a fantastic opportunity for everyone.
The aesthetic, environmental, and health advantages are all appealing. We can provide you a rapid price to renovate an office, courtyard, or any interior-exterior space in Singapore with a vertical garden.
We Truly
Green Wall in Office Space
Enhance your office and events by adding plants and vibrant greenery to your indoor and outdoor spaces.
Green walls are an excellent solution for creating a green privacy screen, a natural visually appealing façade, or providing shade from direct sunshine to building inhabitants. Our Singapore vertical gardens are simple to maintain, economical to construct, and far more appealing than a plain brick or fence. In addition to being both attractive and functional, your new outdoor wall garden will help to strengthen your green credentials while also improving the surrounding environment..
A Green Wall demonstrates a company's commitment to the environment and sustainability while also improving everyone's working environment.
The unique major advantages are contributing to natural air quality, reducing noise levels, and absorbing carbon dioxide. Plants have been scientifically demonstrated to increase people's enjoyment and comfort while decreasing stress levels.
We offers professional commercial garden maintenance and landscape management services to commercial and industrial properties.
Preserved Green Wall
chanting moss walls, and unique feature pieces adorned with vibrant greenery!
Natural beauty mixed with the sturdiness of an inert item. Grown and harvested in a responsible manner, then preserved using a 100% natural process. Various foliage and mosses are available as options.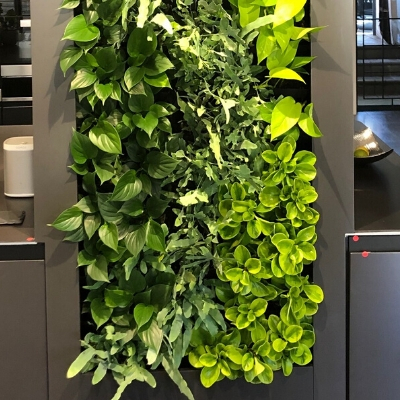 Living Green Wall
Our collection of Green wall solutions is perfectly suited to a range of indoor spaces.
Thinnest profile, lightweight, and has great water and nutrient retention capabilities, allowing for maximum root growth within the system, giving you the most bang for your buck!
Artificial Green Wall
high quality real & artificial solutions
With the aid of the most realistic artificial green wall, you may have the look of a real garden without the care. Our low-maintenance artificial plant alternatives can keep your room green all year.
Make Your Vertical Garden Thrive With The Right Guy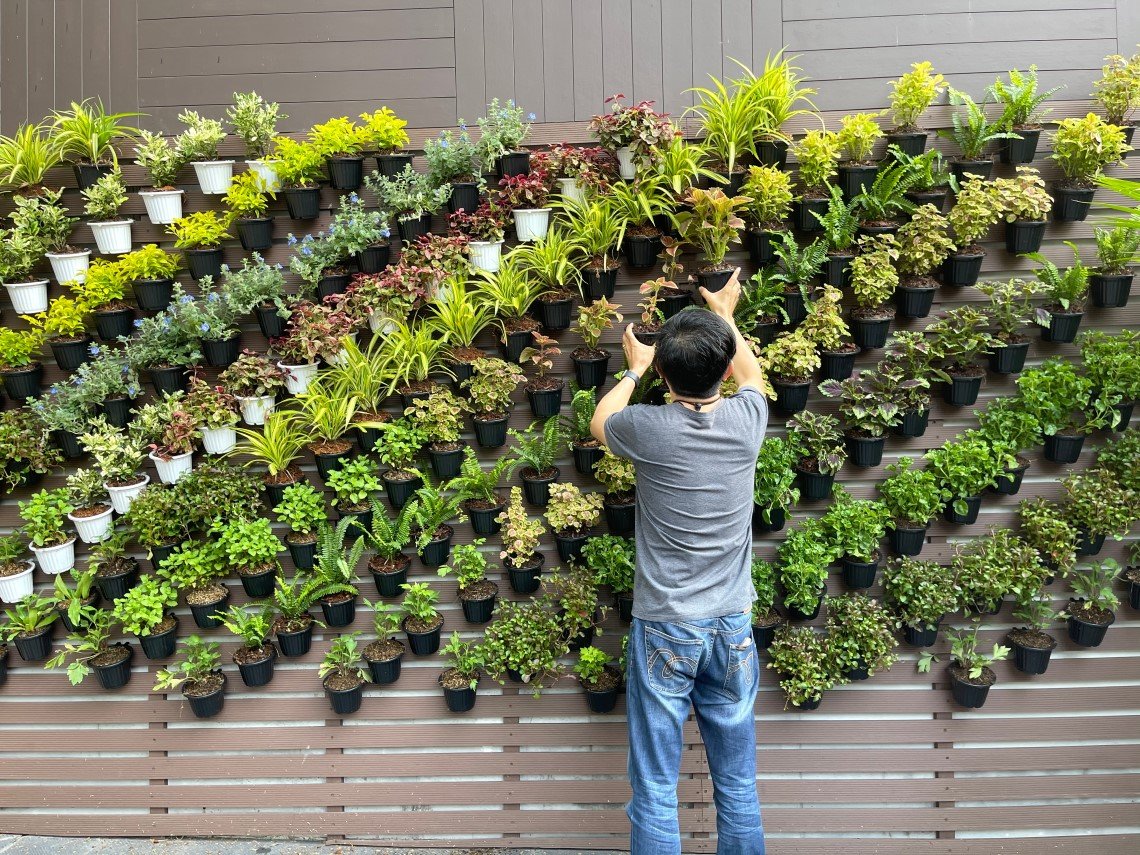 One stop vertical green solution
Design – Installation – Maintenance
Our expert Vertical Garden installation service makes your home renovation or commercial project both beautiful and simple. Fully fitted and equipped with an automated timer and customized planting scheme, the result is trouble-free.
Garden and house space are limited, but vertical gardens or greenwalls are an excellent way to green up.
Greenwalls give direct health benefits, as well as the benefits of shading and heat absorption, in addition to immediate attractiveness.
If you'd like to learn more about how green infrastructure might help your house or project, please contact us.
Free Consultation call now: +65 8585 5454
GREEN WALLS BRING LIFE TO A SPACE.
Do you see something you like?
Get inspired by some of our recent projects, then reach out to our professionals to make your vision a reality. We collaborate with you to help you achieve your goals.
Fill that vacant area, amaze your clients, and notice a jump in employee morale. Green Design produces, installs, and maintains beautiful green walls throughout Singapore and the surrounding areas.
We Connect Your Space With Nature and Improve Your Building's Appearance. Call Us!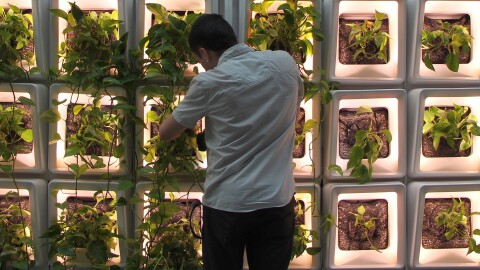 CALL: +65 8585 5454
Quality Guaranteed - Day Scheduling - Free Consultations. Call for Free Onsite Quotation
Vertical garden Price Guide
Framed Vertical Garden in hardwood
Price: $2950
The versatile design is 1.3 by 1.3 meters and has an aesthetically pleasing wood frame. Plants, a programmed watering system, and all workmanship are included in the total package.
Standard frame
PRICE: $3500
A pair of completely installed separate units to cover greater areas, provide interest, and improve the 'wow' effect. 2 x 1.3 meter squared staggered format is ideal.
Custom size
BY QUOTE
Design and installation tailored to your garden environment. A green wall without a frame is less expensive, and we provide meter discounts for 9 meters and up.
Contact Us
Our Success Cleaning Up your Garden Mess